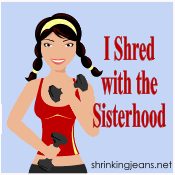 Yep, I'm shredding witht he sisterhood! Lastnight i tried it out for the first time. Few things i realized!

1. Doing this workout using youtube is not easy because its coming in 3 seperate sections, jillian is telling me not to stop but I have to so I can click play for the next part.
2. I hate push ups. So does my left arm, something kept popping when i was attempting these.
3. my legs are not in as good shape as i previously thought.
4. I need a more supportive sports bra to do the jumping jacks and jump rope moves because i swear i hit myself in the face a few times with the girls!
5. I want to do these workouts in the mornings but since I started at night, I am going to have to do 2 workouts in 12 hours to switch it up, not nice!
6. I am looking forward to the results 29 days from now. I started a day late!
7. My dvd will be here tomorrow!!!!

Don't you want o hate Jillian along with me?